"Pudu Robotics' Swiftbot Receives Acclaimed German iF Design Award for its Outstanding Design Excellence"
Pudu Robotics Swiftbot has once again impressed with its design prowess, securing the prestigious German iF Design Award. Regarded as one of the most renowned design awards globally, Swiftbot's innovative design concept and efficient delivery capabilities have garnered worldwide attention, solidifying its position as an advanced all-rounder delivery robot.
The German iF Design Award has been a trusted and well-recognized industry benchmark for designers and businesses since 1953. The significance of this award attracts worldwide participants each year and serves as a reliable indicator of quality.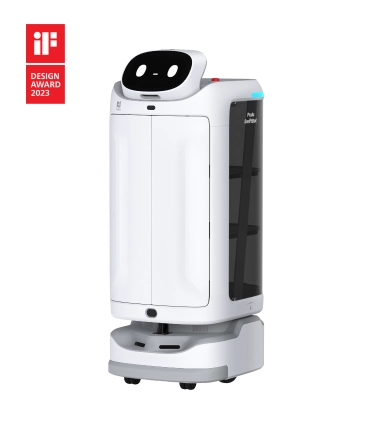 Innovative Design Concept
Swiftbot embodies a people-oriented design concept, placing utmost importance on delivering an exceptional user experience. Its simple and user-friendly body design presents a seamless visual design. Besides, the subtle color establishes an inviting ambiance, while the fusion of the distribution cabin and translucent PMMA dining cover creates a captivating contrast between virtual and real elements, adding depth and dimension to the overall design.
Swiftbot also employs an innovative front and rear dual LIDAR (Light Detection and Ranging) chassis, maximizing its visual sensor's field of view, and effortlessly adapting to diverse environments. By integrating the distribution cabin and laser projection module, the robot projects its driving intentions onto the ground, enhancing comprehension of its movements like charging, signal loss, and turning.
Swiftbot's creation is rooted in a steadfast commitment to environmental preservation. It achieves this through several key measures, including the avoidance of paint spraying, prioritization of natural eco-friendliness, and reduction of carbon emissions through its use cycle. 
Efficient Delivery
Swiftbot effectively addresses efficiency challenges during peak periods through its innovative hardware interaction system. By leveraging an optimized chassis shape, it enhances obstacle avoidance capabilities, enabling flexible navigation in all directions. The integration of a laser projection system further enhances delivery efficiency and promotes smoother traffic flow. Notably, Swiftbot's advanced chassis algorithm continuously adapts paths, ensuring seamless maneuverability even in narrow spaces.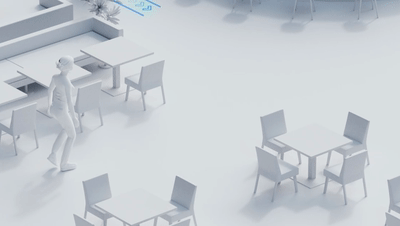 Human-Centric Interactive Experience
The delivery cabin of Swiftbot features an intelligent double-opening gull-wing door design, Meticulously addressing privacy and hygiene safety standards, it guarantees the secure and sanitary delivery of dishes. Additionally, Swiftbot's intelligent sensing system could lend a hand to users who have their hands full and cannot operate the screen. Users can simply step on the projected pattern to automatically open the door.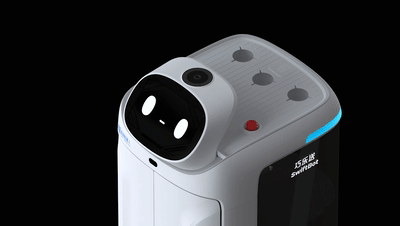 The striking head shape of Swiftbot embodies a lifelike appearance and a dynamic expression system, allowing the robot to convey a range of emotions including joy, frustration, and enthusiasm. This charismatic and personable image effortlessly engages a diverse audience, forging a memorable connection with audiences.
Swiftbot represents a comprehensive distribution robot that integrates innovative design, efficient delivery, and human-centric interactive experience. Winning the German iF Design Award validates Pudu Technology's commitment to innovative robotics design. It strengthens Pudu's competitive edge in the global market and affirms its mission to liberate the workforce from repetitive tasks.
Pudu Technology will continue to advance research and development, delivering exceptional products and making significant contributions to the industry. Looking for solutions to streamline your delivery operations and user experience? Contact us to find out more! Send in an inquiry today!