PuduTech Showcases 3 Flagship Robots at CES 2020, Ushering in a New Era for Delivery Robots
Jan. 7th witnessed the opening of the 2020 Consumer Electronics Show (CES 2020), the world's largest, most influential consumer tech event, in Las Vegas, the U.S. PuduTech, a top-notch intelligent indoor delivery robot provider in China, showcased to the world three of its self-developed delivery robots—PuduBot, BellaBot and HolaBot—at the event.
The company organized 2/3 of its exhibition space setting up a "Future Restaurant" for visitors to experience how the delivery robots work in real cases.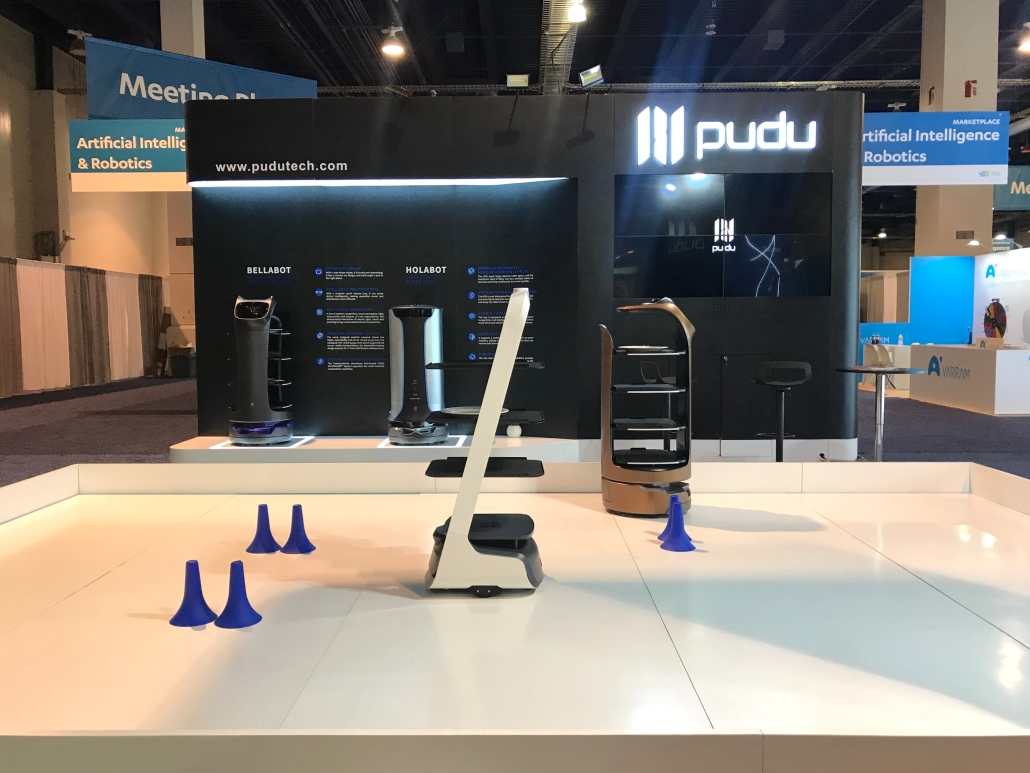 PuduBot and BellaBot serve as food delivery robots. Following precise positioning and navigation instructions from PuduSLAM algorithm, the robots will reach designated tables after the waiter chooses the correct table number for the trays.
It is known that PuduBot is the company's first-generation food delivery robot, with more than 5,000 PuduBots currently working at over 2,000 restaurants of different categories in 200-plus cities in more than 20 countries. Annual delivery of these robots has reached 6.5 million times and over 15 million trays of food are delivered to customers in a year, which is equivalent to 3,000 waiters working for a whole year.
A successor to PuduBot, the brand new food delivery robot BellaBot greeted the market only last month. It works as efficient as PuduBot and outperforms its predecessor with extra design features such as multi-model human-robot interactions including human voice, touch, expressions, and lights.
BellaBot amazingly presented such multi-model interactions with visitors at PuduTech's exhibition space. Some visitors came to greet BellaBot with a touch on its ears and that's when it winked at them and responded "Oh, How itchy!" When someone kept touching its head or ears, it showed them with an angry face and said "No more touch on me, will you? Bella's gonna go to work."
Such human-like reactions did win BellaBot lots of fans. Some said, "The look like a kitty already makes it cute. And Bella even showed rich expressions and emotions. The lovely robot really is my cup of tea. I definitely would go to a restaurant that has Bella serving people there."
Unlike PuduBot and BellaBot, HolaBot is responsible for dish returning. Researches by PuduTech show that as many as 350 times on average of dish-returning services need to be provided in a hot-pot restaurant each day, making robots like HolaBot definitely become a good helper in restaurants.
HolaBot is equipped with a 120L enclosed cabin, which contains three-layer trays capable of holding 20kg of items in each layer. It can carry a maximum of 120 small plates, 39 large plates, and 33 bowls all in a single delivery, working with efficiency 6 times that of a waiter.
PuduTech professionals told us that the business logic behind HolaBot is more complicated than that for food delivery robots. This might be the reason why there are few dish returning robots like HolaBot in the market.
To get HolaBot into work, an operator needs to make a remote call and then the central control system arranges tasks for the robot. That's why PuduTech develops a system, one that supports multi-calling devices such as beepers, APPs and intelligent induction balance, to enable operators to assign the robot for designated places at any time according to scheduling signals from the central control system. This approach makes optimal efficiency and collaboration among multiple robots possible.
The three flagship robots will greet visitors from Jan. 1st to 10th at PuduTech's exhibition booth(LVCC, South Hall 2 – 25258). PuduTech sincerely invites professionals in the global catering market for a visit to the booth and hopes to create a future where more restaurants will be using smart delivery robots to serve their customers.